We know that finding the perfect workspace can make all the difference in your day-to-day productivity. Whether you're a seasoned remote worker or a new entrepreneur just dipping your toes into the search for workspace away from home, choosing the right environment to work in is crucial for productivity and growth. In this blog post, we're diving into the age-old debate: private offices vs. co-working spaces. So, grab your coffee or tea, get comfy, and let's explore the pros and cons of each to help you find your ideal workspace.
Private Offices: Your Personal Haven
Let's start by talking about private offices. Picture this: a cozy, dedicated space all to yourself. It's like having your own little kingdom where you can conquer tasks with no distractions. So obviously that's gonna come with some sweet perks:
Privacy: The golden ticket here is the privacy. No more awkward conference calls in the kitchen or distractions from that list of to-dos calling your name.
Customization: Your space, your rules! You can decorate it to match your vibes, from wall colors to quirky desk accessories.
Separate Work & Home: It's (ideally) your home away from home – a place to focus, strategize, and bring your business dreams to life but then also turn off at the end of the day before you get back to those furbabies, kiddos or that laundry that needs to be started.
But, wait for it, there's a flip side. Let's talk about potential drawbacks:
Higher Costs: The freedom of a private office comes with a price tag. Especially when signing a traditional office lease outside your home. Rent, utilities, and maintenance can add up and may not be ideal for new start-ups.
Isolation: While privacy is fantastic, working remotely can start to feel lonesome and disconnected. You miss out on the buzzing energy of a community and interactions especially if you're solo at home.
Coworking Spaces: Where Collaboration Thrives
Now, let's talk coworking spaces. These shared hubs have been popping up all over for a good reason. They're not just spaces; they're communities so let's chat some of the benefits we're seeing:
Flexibility: No long-term leases here! Co-working spaces offer flexible memberships, perfect for startups and freelancers.
Community: The diversity of talents around you can totally spark creativity and fresh ideas. The chance to network, or collaborate with fellow entrepreneurs can open some doors to cool partnerships or collaborations. OR maybe just take a chance to connect & have lunch with other working women who totally *get it*
Cost-Effective: Co-working spaces often include utilities, internet, and amenities all in your membership fee and (even coffee onsite) saving you from bills that could add up. Most places even offer types of memberships to cater to your needs as you grow in business.
But I'm here to say coworking isn't for everyone so here are a few possible downsides to consider:
Noise: Similar to a coffee shop, with a shared space comes a little noise. If you're a fan of pin-drop silence, you might need noise-canceling headphones.
Limited Personalization: While you can make your space cozy, there's a limit to how much you can customize in a shared environment.
Assessing Your Needs: The Big Questions
Now, let's get personal. It's time to assess your unique needs and work style. We've whipped up a checklist to help you out:
What's your budget?
Do you crave privacy or thrive in a communal atmosphere?
Is flexibility a must-have in your work life?
Do you meet with clients on a daily or weekly schedule?
What industry are you in, and how does your workday flow?
Take a moment to ponder these questions and see which workspace aligns better with your realistic day-to-day.
Now, let's talk money. A budget-friendly workspace is always a win, right? Here's a quick breakdown:
Private Offices Costs:
Rent: Monthly rent or long-term leases.
Utilities: Electricity, water, and internet bills.
Maintenance: Repairs and upkeep.
Or Home office: taking up valuable square footage of your house.


Coworking Spaces Costs:
Membership: Monthly fees often cover utilities and amenities.
No Hidden Costs: Say goodbye to surprise bills.
If you're a savvy spender, co-working spaces might be your wallet's best friend.
Creating Your Perfect Work Environment
Next up, let's talk ambiance! Your workspace should be an extension of your creative spirit. Whether it's a private office or a co-working space, here are some things to think on:
–Design to Inspire: Personalize your office space with artwork, plants, comfortable furniture or even a cute keyboard or desk mat.
–Ergonomics Matter: Invest in a comfy chair and desk to keep you comfy during those long hours. Alternatively, mix up where you work or take a short walk so you don't get too stiff stuck in one place.
–Connect with others: Chat with your co-workers, attend a virtual coworking session. Find ways to interact with other people during your work day. Humans weren't made to do life solo.
–Soundscape: Consider noise-cancelling headphones or soothing background music. Our go-to station is work or study lo-fi beats for a happy medium.
Remember, a happy workspace leads to productive workdays.

Case Studies and Success Stories: Real-Life Wins
Still unsure which workspace is your best fit? Let's peek at some success stories:
Growing Fast: Jen leased a private office for her growing coaching business, providing the privacy and space she needs to see clients one-on-one. Productivity Paradise: Kim loves having a place to work that is separate from home and the kids.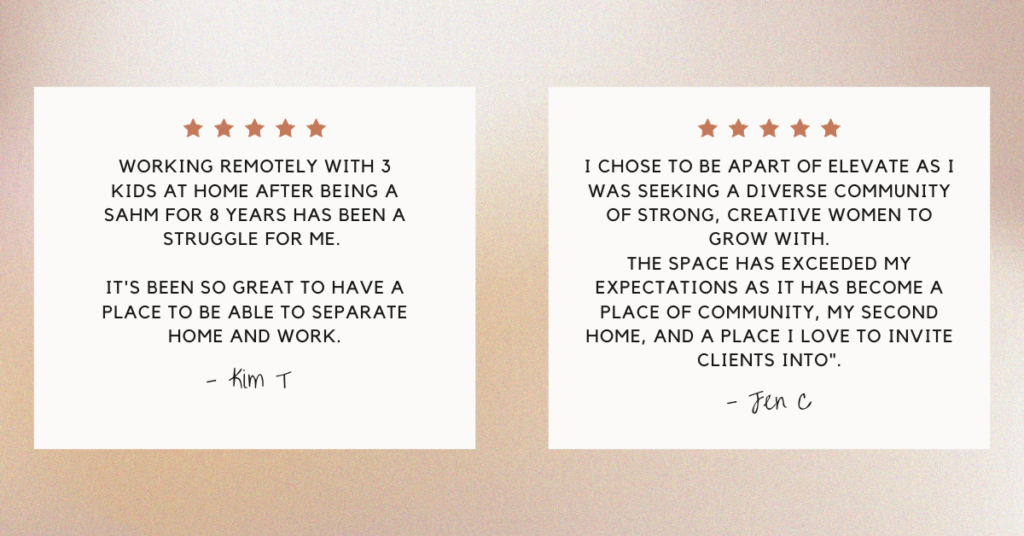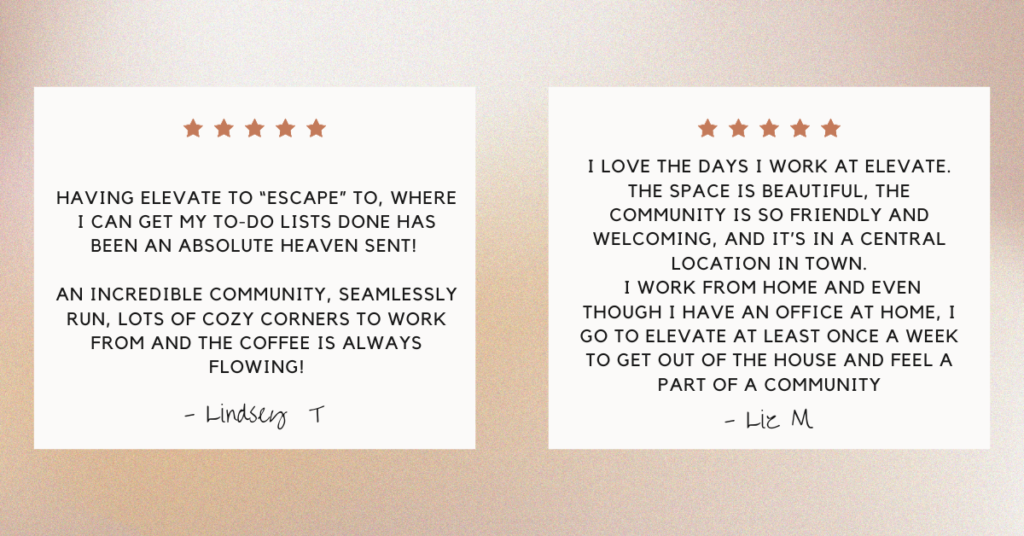 Cozy Escape: Lindsey finds a coworking space the best place to tackle those todos lists in a cozy setting. Connections and Community: Liz uses a co-working space to break up working from home and have a chance to be around other working women.
Combining the Best of Both Worlds
Can't decide? No problem! You can have your cake and eat it too. You might consider a hybrid solution til you know for sure. Private Office for Focused Work: For those big projects that require total concentration. Coworking Membership for Connection: When you want to tap into the coworking community's energy and hustle.

A coworking space can truly be the best of both worlds with flexible membership options to cater to your needs! Elevate offers serval options for flexible monthly plans for anyone from side-hustlers, Remoter Workers, Freelancers, Therapists, and even companies with a small team.
Conclusion: Your Perfect Workspace Awaits
To wrap it up, choosing the ideal workspace is a personal journey. And be open to know that different seasons of life and work demand different resources. Both private offices and co-working spaces have their own charm, and the right choice depends on your unique needs at the time.
Ready to explore your options in Wilmington, NC? Come visit our co-working space and experience the best of both worlds. We're here to support you, no matter which path you choose. Get in touch, schedule a tour, and let's find your perfect workspace together.