Host Your Company Holiday Party at Elevate Coworking in Wilmington
The holiday season is just around the corner, and it's time to start planning your company's Christmas party. But have you ever considered taking your celebration outside the office and into a cozy and unique coworking space?
Ah-ha, I knew I liked you!
At our Wilmington coworking space, we offer the perfect venue to host your holiday party. With cute interiors and a cozy atmosphere, you'll find that our space is an ideal choice for your festive gathering. Let's explore why hosting your holiday party at Elevate is an idea worth considering.
The Perfect Escape from the Office
Tired of the same old office holiday parties? Many companies are looking for a change, a fresh and exciting atmosphere to celebrate the season with colleagues and clients. Our unique coworking space offers just that – an inviting escape from the traditional office setting. The moment you step inside, you'll be greeted by the warm and cozy ambiance that sets the perfect mood for a festive event.
Features of Our Space
Our coworking space is not your average venue. It's a convenient location, easily accessible to your guests, and offers ample parking.
Inside the cute interiors are designed to make you feel right at home, while the cozy atmosphere adds a touch of intimacy to your gathering. Our well-equipped kitchen, complete with a fridge and sink, provides the convenience you need to host and set up food and drinks.

These amenities are designed to make your holiday party at our coworking space even more enjoyable and stress-free.
High-Speed Wifi: Stay connected with fast and reliable internet access.


Clean and Convenient Bathrooms: Our restrooms are well-maintained and easily accessible for your guests' comfort and convenience.


Sound System: Enjoy the flexibility to play your favorite holiday tunes or a playlist with Alexa speakers spread throughout our space.


Equipped Kitchen: Our kitchen is equipped with modern appliances, allowing you to prepare and serve delicious meals and beverages to your guests. It includes a sink, fridge, freezer, dishwasher, and ample counter space.


Versatile Tables and Chairs: We provide a variety of tables and chairs to accommodate your unique event needs in our kitchen space.


Cozy and Stylish Seating: Create a welcoming environment with our comfortable seating options like couches in the main space for your guests to relax and socialize.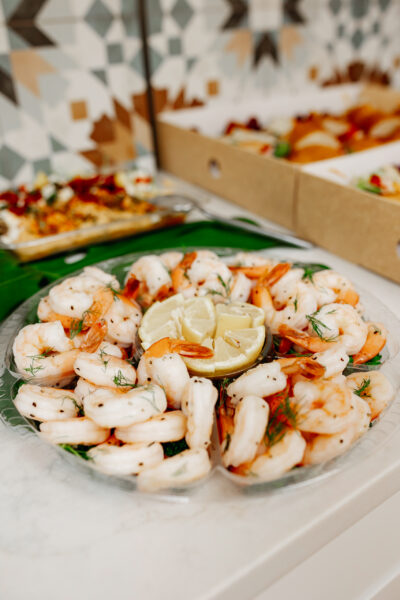 Tailored for Local Small Businesses
Designed with local small businesses in mind, our coworking space opens its doors to team parties and client appreciation events for under 30 people.

We understand the importance of creating meaningful connections within the community, and our space provides the perfect setting for fostering these relationships. By renting our space, you're not just hosting a party; you're creating an experience that leaves a lasting impression.
A Successful Holiday Party
Elevate Coworking can be the ideal destination for hosting memorable holiday gatherings outside the office. With its charming interiors, cozy ambiance, and convenient amenities, it provides the perfect setting for your company party. We've hosted Christmas parties, employee/ client appreciation nights and, other holiday events.
So, why stick to the same old office party when you can elevate your celebration in a unique and welcoming space like ours? Contact us today to book your holiday event before the dates fill up!